10 Legit Online Jobs in Nigeria to Do from Home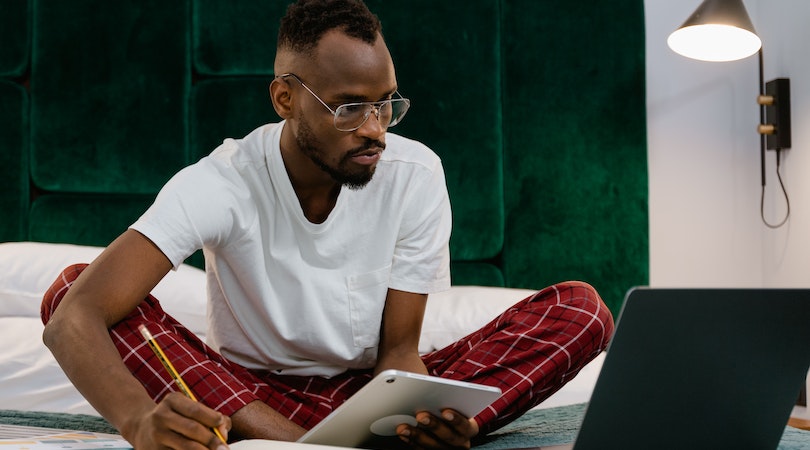 Are you a student in Nigeria or you are a stay-at-home mum and you are looking for opportunities to make money online doing legit online jobs that you can do from home that can earn money daily, weekly, monthly, or even on a commission basis?
Read this article to the end. In this today's article, we are going to be sharing with you legitimate jobs that you can do online within Nigeria and beyond and make a steady income. To start any of these jobs you do not need a university degree you just need a computer (laptop) or even a phone, the zeal to learn, and within a short while you can start making money.
Why Should You Work Online?
There are many benefits or advantages you get the moment you start working online. The first reason is that there are more opportunities online now unlike many years ago. Many businesses that only exist physically have moved online. Asides from this, new online businesses are invented every day to meet human needs.
Another reason why you should work online is that online jobs are easy to search for and secure. Unlike offline jobs that require you to be physically present to submit your CV. Online jobs reduce traffic stress and how much you spend on transportation. Averagely, workers spend 20 – 40% of their salary on transportation.
If you are working online you can easily save this part of your salary or earnings. Lastly, you should work online today because you are likely to make more money online (especially in dollars) than offline.
Legitimate Online Jobs in Nigeria to do From Home
Are you ready? Here are online jobs in Nigeria that you can do now from home.
1. Content Writing Job
If you are looking forward to online jobs available in Nigeria that you can do from home that can pay you daily you should consider a content writing job. This job is profitable because of its high demand on the Internet. As of today, there are millions of blogs that need writers.
Asides from this, new blogs are still coming up every day. As a content writer, you can write for blogs using SEO (Search Engine Optimization) and for social media blogs using hashtags. As a content writer in Nigeria, you can make a minimum of #10,000 – #20,000 daily online.
If you are hardworking and you are passionate about your job. Becoming a content writer today goes beyond creativity. You have to be willing to learn. You have to learn how to use search engine optimization to write articles and how to apply hashtags.
There are many videos on YouTube that can teach you this for free and you do not need to pay any sum of money. You just need to learn and look for local and international blogs that employ writers. Apply by sending them an email, and start writing to make money.
I wrote a full article on how you can make money from content writing in Nigeria. You can read it to get everything you need to know.
2. Copywriting Job
Are you looking for an easy online job that you can do from home that you do not have to do daily but can make you a good amount of money? That job will be a copywriting job. Copywriting is still new in Nigeria, only a few know about it which is why we have just a few copywriters in Nigeria today.
So what is copywriting? Especially for those of us that are just hearing the word for the first time, copywriting is the act of writing for the sole purpose of advertisement. The product of copywriting is called a copy or sales copy. It is the ability to increase brand awareness which is to convince prospects to buy.
The good news about copywriting is that you do not need a qualification to become a copywriter. All you need is the willingness to learn and the ability to increase your experience. There are many resources online in text and video formats that can guide you on this.
As a beginner, you can earn up to #100,000 from copywriting in Nigeria but you can definitely earn more when you start working for US or UK clients.
3. Graphic Designing Job
A graphic design job is another easy job you can do online to make money in Nigeria. This job can make you money online daily, weekly, or even monthly. It depends on the agreement you have with your employers. As a graphic designer in Nigeria, you can make money editing pictures, editing YouTube thumbnails, fliers, and more.
You do not need experience to work as a graphic designer, especially online. All you need is the skill and the willingness to make money. As a graphic designer, you can make up to #50,000 – #150,000 monthly in Nigeria if you have many employees you are working for and you are a freelancer.
4. Digital Marketing Job
If you are a digital marketer in Nigeria, I am here to tell you that you can make money from this skill online and get paid from home. There are many benefits of becoming a freelancer in digital marketing. You can work with different tech companies and individuals helping them to promote their goods or services online.
Many micro-businesses that are existing offline need the services of digital marketing experts. You can simply help them with this and get paid. There are different materials online that will guide you on how to become a digital marketer in Nigeria but you can read our in-depth article on this.
You can also read our article on different ways you can make money as a digital marketer. This will open your eyes to how to succeed in digital marketing. As a digital marketer in Nigeria, you can make #300,000 – #500,000 if you consider other sources of income.
5. SEO Job
SEO also means search engine optimization. It is the ability to make websites and blogs appear on search engines, especially Google. This skill is not hard to possess, you just need to know how to apply keywords at the headings, subheadings, and other areas of blogs and websites.
There are so many individuals and organizations in need of this service today due to how technical it looks from the outside. You can earn a minimum of #100,000 monthly if you know this skill and you can render it online. The first step to becoming an SEO specialist is to learn.
Today, you do not need to go to a computer school to learn about SEO. There are free materials online in text and video format to guide you. You do not also need a qualification. All you need is experience.
To render SEO services to blogs and websites you will need to log in to the customer's website and work on the website from the back-end. The moment you are done with this, it will be easier for prospects to find these websites through search engines.
6. Online Tutor Job
Another online job you can do from home in Nigeria is a tutoring job. Depending on what you want to teach online. This job might need an educational qualification and it might not. Today, there are many people online, especially foreigners that want to learn Nigerian languages right from where they are without visiting Nigeria.
Many of them go online to search for online tutoring platforms to teach them how to speak Nigerian languages. You can simply search for these online tutoring centers in Nigeria and outside Nigeria to start making money in naira and dollars teaching learners.
You do not need a basic qualification to teach Nigerian languages, you just need to be able to read and write in English and the language you want to teach. You can also teach important subjects like Mathematics and English if you have the educational qualifications.
How much you earn as an online tutor depends on different reasons. However, you can make #100,000 to #300,000 monthly.
7. Social Media Manager Job
Another perfect online job in Nigeria that you can do from anywhere and that is flexible is a social media management job. As a social media manager, your duty is to help businesses, organizations, and individuals like celebrities manage their accounts. And you get paid while doing this.
If you are working for international organizations you can be paid in hard currency (dollars). A minimum of $300 – $500 monthly. As a social media manager, you are not just saddled with the responsibility of posting pictures and increasing engagement on social media.
You are also responsible for increasing the number of followers of your clients and answering any questions or complaints posted on their accounts. I have written a detailed article on how to become a social media manager in Nigeria. You should read it if you are seriously considering this job.
8. Web Design Job
If you like building something from scratch, this job is for you. Today, you can start a career in web design without a qualification. The guy that designed this blog for me did not have any qualifications to prove that he is a web designer but I hired him based on some of his work that I have seen.
He is also the same person that built and designed my business website. You too can become a web designer today and start working online as there are many individuals that either want to start a blog or build a business website. On Average, you can make #300,000 – #500,000 monthly from web designing if you are able to learn the skill fast and you are able to give customers what they want.
I have a full article on how to become a web designer in Nigeria. You should read the article to know the kind of web designer you want to become and other opportunities that lie therein.
9. Video Editing Job
If you like shooting videos and you know how to edit videos this online job might be for you. Although the operation cost of this business is high due to the fact that you have to spend money on an internet subscription, you can still make a good amount of money monthly.
As a video editor, you do not necessarily need to edit movies or long videos. You can edit TikTok videos or Instagram videos for clients and make money whilst doing this. Video editing is easy and anyone can do it. You just need the passion for the job and the willingness to learn. 
10. Translation Job
Asides from teaching any language as an online tutor you can also translate these languages. This is where the translation job comes into place. The best thing about translation jobs is that you can apply to websites like Unbabel and Gengo and start making money immediately as long as you can read and write in these languages.
You do not need anything to start a translation job online today. All you need is to take action. There are different ways you can make money as a translator online. You can make money translating books, audio, videos, and more. How much you earn as a translator depends on the sites you applied to and how often you work.
Conclusion
In conclusion, the online jobs you can do from home in Nigeria are through translation, video editing, SEO, content writing, copywriting, graphic designing, and digital marketing. There are also platforms online that you can sign up for to get clients easily.
Many of the platforms like Fiverr, and Upwork will get you clients and pay you in dollars when you use their platforms.
Recommended: