How to Become a Video Editor in Nigeria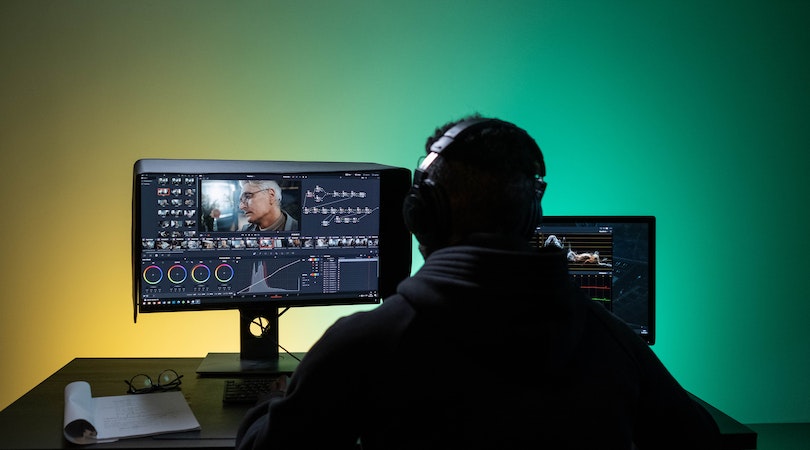 One of the best ways to make money online or offline in Nigeria today is to become a video editor. In this article, we explore the steps you need to take to become a video editor in Nigeria, the qualifications needed, and the many ways you can make money as a video editor locally in naira and in dollars.
So I will advise you to read this article to the end in order to be fully informed. A perfect video whether it be a movie, comedy skit, or music video is always done by two professionals. These are videographers and video editors. Videographers are professionals who shoot videos for a living.
All videographers have their specialty. While some focus on skits, others focus on outdoor ceremonies. However, a video editor can work on any video as long as it needs editing.
What is Video Editing?
Video editing is the arrangement of video shots – this is the ability to make videos have the necessary information needed in them with some cool features. Video editing is used to present any type of video. This could be commercials, documentaries, YouTube videos, skits, and more.
How much do Nigerian Video Editors make?
The money video editors earn in Nigeria ranges from #10,000 to #500,000 and this depends on so many factors like the kind of video, experience, professionalism, and more. For example, video editors for commercials and movies earn higher than others. Branding also plays a long role.
The way you brand your video editing business determines how well customers will patronize you.
Qualifications of a Video Editor
To become a professional video editor in Nigeria you need a certification. This could be any course related to film and video editing from a relevant or recognized movie academy. There are other qualifications you can go for if you do not have a degree (BSc) in film or video editing. You get certification from online schools like Udemy and more.
How to Become a Video Editor in Nigeria
This is the step-by-step guide on how to become a video editor in Nigeria.
1. Attend a Film School
To become a video editor in Nigeria it is mandatory you learn the skill. Video editing is not a talent. It does not come naturally to anybody. You need to learn how to do it. And the best thing about this is you can use your phone to learn or use your laptop but to look professional it is important you get a laptop.
To get trained you can attend a filming school for 6 months, 1 year or 2 years. There are many film institutes in Nigeria. One of the most popular is PEFTI Film Institute owned by Wale Adenuga. If you cannot attend these schools due to one reason or the other, you can learn online.
There are different schools online that offer training and when you are done they issue certificates. These certificates can be valuable especially if you want to edit movies or films for a production company. YouTube is also a very influential platform. There you can learn how to edit videos for free.
2. Develop your Editing Skill
Learning how to edit videos is not good enough. You need to develop your skills and the major way you can develop your video editing skill is to practice. There are many video editing software for both phones and computers. Depending on the editing software that was used to train you, you need to master this software.
You can even start a YouTube channel if this will motivate you to continue practicing every time. Starting a YouTube channel will also show progress. And when clients see this they will be able to contact you easily and patronize you.
3. Determine your Charges for Videos
The charges of video editors range in Nigeria just like it is in the USA, Canada, or anywhere else in the world. As a video editor, you need to know how much you will charge clients for the jobs you do for them. This could be per hour (if you are working online) or per video.
For example, you need to know how much you will charge for the editing of commercials. This is because you cannot charge the same amount for commercials for YouTube videos. And as you are just starting out you need to know that your charges need to be considerable.
You do not want to scare off your clients before they even give you a try. Charges also differ according to your area, state, and even region. For example, video editors in Lagos will naturally charge more than video editors in remote areas in Nigeria.
4. Build your Portfolio
Finding clients that will patronize you, in the beginning, can be hard. This is because you are just starting out and you are not famous yet. At this point or stage, you need to tread carefully. You can start out by searching for YouTubers that will need video editors for their videos.
You can tell them to give you a try. If it is possible, you can edit one video for them for free just for them to see your work and give you a trial. With that, you can build your customer base from scratch. Popular video editors in Nigeria started like this. They did not just rise to fame with a twinkle of an eye. It took time and patience.
5. Making Money as a Video Editor
There are ways you can make money as a video editor in Nigeria. Some of these are:
A. YouTube Videos
One of the easiest ways to get customers and start making money fast as a video editor is to edit YouTube videos. This video could be any kind of video. It could even be YouTube shorts or TikTok videos. You can get paid very well for this especially if you know how to bargain well with clients.
Usually, if it is their first time patronizing you, you can give them discounts just to convince them.
B. Ceremonial Videos
You can also make money as a video editor in Nigeria by editing ceremonial videos. These videos are often made by a videographer. This means you have to connect with videographers in this field for continuous patronage
C. Movies or Films
As time goes by on the job you will begin to get more offers if you render good service to your clients. At this stage, you can look out for producers in the Nollywood industry and see if you can convince them. This might take serious work but it is worth trying. 
When you do this and you are able to do a good job you will continue to get editing jobs from these producers. I know a movie editor who makes good money just by editing movies. He has made a good name for himself in the industry.
D. Commercials
It takes professionalism to be able to edit commercial or advert videos. This is because you are not just editing the videos for editing sake but to convince watchers to buy a product or service. This offer can come later in your career or you can simply contact advertising agencies to give you a try.
Conclusion
Video editing is a lucrative skill. It is a skill that demands the ability to pay attention to details and to give customers what they truly want. As a Nigerian, you can make a good life out of this skill if you are patient and diligent enough.
Recommended: