How to Start Laptop Repair Business in Nigeria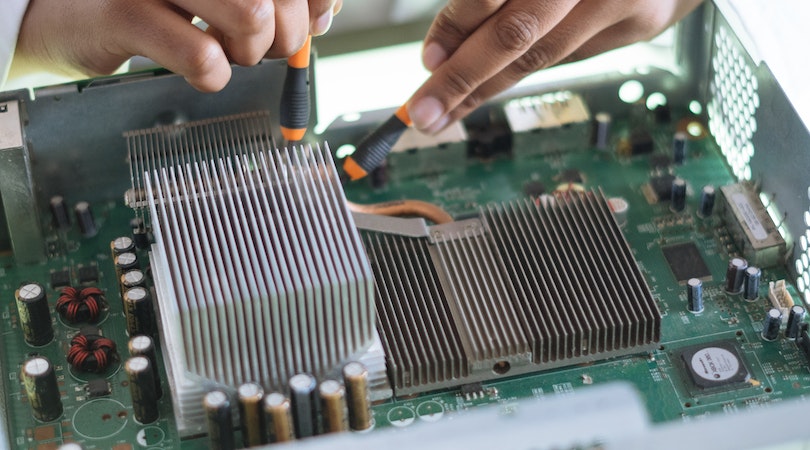 Are you thinking of starting a computer repair business in Nigeria or you are thinking of starting laptop repair business in Nigeria? Do you want to know what it takes to start the business, to keep it going, and make profits in a short while? Welcome! In this article, I am going to be teaching you how you can start a computer repair business or laptop repair business in Nigeria from scratch.
How you can learn computer repair skills, how much you need as capital to start the business, the equipment you need to start, the best location for these kinds of business, and how to make profits from the business. We all know about 90% of Nigerians if not more use mobile phones. These phones could majorly range from ordinary phones which are used to make calls, android phones to iPhones.
Asides from this, we also have millions of Nigerians who use computers especially laptops to do their online activities or offline activities like typing, graphic designs, and more. These people will all need repairs for their phones or laptops at one point or the other because these gadgets can develop faults or stop working.
This is where you come into place by repairing these phones or laptops – making them continue their life's work by changing their damaged parts. These repairs are not restricted, they are vast sometimes it could be the replacement of screens, power packs, charging points, and more. And if these phones or laptops are no longer repairable, you will also be in the position to advise your customers to buy another.
One – para-venture advising them on a better choice of gadget. Enough of all the talk, let's find out if the phone repair business and laptop repair business is profitable.
Is Laptop Repair Business Profitable?
The laptop repair business is also profitable for many reasons. It is profitable because there's a huge percentage of Nigerians that use laptops for one thing or the other. The majority of these people are those who work in the office, those who run online businesses, and students. You can make money by repairing these laptops and replacing their faulty parts.
All you need to make your money easily is to make sure your shop is in the right location and has people skills. Enough of the introduction, let us talk about how you can start either of these businesses as a beginner in Nigeria today.
How to Start a Laptop Repair Business in Nigeria
How to start a laptop repair business in Nigeria. The step-by-step guide.
1. Learn to Repair Laptops
Since the business, you are going into is a service rendering business you need to learn how to repair the phones or laptops first before you can proceed. You need to learn these repairing skills and learn them well because the business can start fully.
A. How to Learn Laptop Repair
The first thing to do to learn phone or laptop repair is to look for someone very good that can teach you the skill. Please do not be in a rush when you are finding the technician as the person that will teach you will have an effect on your business later on. If you cannot find professionals in your area due to one thing or the other you can go to the popular electronics market around you to learn. All you need to do is your proper findings.
B. Where to Learn Laptop Repair
There are different places you can learn how to repair phones or laptops it just depends on where you are located in Nigeria. If you are in Lagos you can learn phone or computer repair in the computer village in Ikeja, Alaba Market, or in Ladipo, Oshodi. However, if you're not in Lagos, you can learn from any computer village located in the state you are in Nigeria.
C. How long to Learn Laptop Repair
How long you take in learning how to repair phones or laptops really depends on how fast you can learn. You can learn all you need to know in 3 months and you are ok to be on your own and it might take you up to 6 or 9 months. It all depends on your pace.
2. Buy Laptop Repair Equipment
After learning how to repair these phones and laptops to an extent you can then go ahead to buy the equipment you will need to be repairing phones or laptops. These equipment can be bought new or in tokunbo. You just need to choose the one that will be best for you and go ahead to buy it. As for where you can buy these equipment (new or tokunbo) you can buy them in any electronic market in Nigeria but beware of the fake ones.
3. Equipment Needed for Laptops Repair
There are many equipment used to repair phones and laptops. Some of these equipment are listed below. However, it is not a must to buy all because they are many you can just buy the ones that are very important, and as time goes by buy the rest.
1. Cleaning sponge
2. Nose cutter
3. Point cutter
4. Blade cutter
5. Paste flux
6. Liquid flux
7. Solder paste
8. Jumper wire
9. Mobile phone repair tool kit
10. LCD tester
11. Test JIG box
12. Battery tester
13. Battery booster
14. Mobile phone opener
15. Skrewdriver kit
16. ESD-safe cleaning brush
17. Tweezers
18. Magnifying lamp
19. Antistatic mat
20. Hot air blower
21. Desoldering wire
22. Wrist strap
23. Antistatic hand gloves
24. Antistatic apron
25. Smoke absorber
26. Microscope
27. Infrared workstation
28. Ultrasonic cleaner
29. Thinner
30. Magnifier
4. Rent a Shop/Work from Home
After learning how to repair phones and laptops and you have bought the tools or equipment needed to start the phone or computer repair business the next step for you will be to rent a shop. However, when you are renting a shop there are a few things or factors you need to put into consideration to make sure you do not run at a loss even before starting the business.
A. You need to make sure your shop is located in the right place, the right place in the sense that your shop is in a crowded area – a place where thousands of Nigerians pass every day and can easily locate you.
B. Another factor you need to consider is not spending too much on renting that shop. So despite the fact that I said that you should rent a shop in a populated area, you should make sure you do not spend all your capital or almost all your capital on renting a shop. You need to find a middle ground. Find a shop in these kinds of areas I talked about that is not expensive. As we all know it is easy to pay first your year rent but it is not always easy to renew it afterward.
C. Lastly, consider how much you are going to spend on furnishing the shop to your standard – buying furniture like chairs, tables, fans, air conditioners, bulbs, and more. But if you cannot afford a shop you can easily work from home for a start pending the time you can raise funds to rent a shop.
5. Register your Business Name
It is very important to register your cell phone repair business name under the Corporate Affairs Commission (CAC) especially if you are planning to go big into the business. Maybe you want to be in the business for about 10 years or more and you see yourself opening more branches for the business. To register under CAC you will need an agent to process it for you but if you can process it yourself you can go ahead.
Some of the questions you need to answer to register your business name are the name of your business, address of your business, nature of the business, your name, date of birth, utility bill, and more. You should read our guide to know how to register your business name in Nigeria.
6. Start Repairing Customer's Laptops
There is no proper way in starting a business in Nigeria. You do not need to have everything in place before you start. You can even start before you rent a shop by working at home first. Start repairing cell phones as soon as possible so that people will start trusting you early. You can advertise your phone repairing business by first telling your family and friends what you do and repairing their phones or laptop at a discounted price.
When you are able to do this well they will even introduce you to their friends which will, in turn, expand your customer base.
7. Making Profits in the Business
There are many doubts about phone repair business or laptop repair business as to if the business can really yield enough profits to take care of an average Nigerian's major needs, that of the family, and do other projects. Well, if you have any doubts about this business here are some ways you can profit-proof it to make sure it always yields profits year in and year out.
A. Start Computer Parts Business
This is one way you can make more profits in your phone repair or laptop repair business in Nigeria. You can start a phone parts business alongside since in your phone repair business you will need phone parts. There are different types of phone parts you can be buying to resell. But I will advise you to buy the most needed ones like phone screens, charging points, and more to make the phone part business move fast.
B. Rent out some of your space
Another way or method you can increase profits in your phone repair business is to rent out some of your space for other phone repairers. I have seen many people in this business practice this. If your space or shop is big enough rent out some of these spaces for other people in the same business with you to use and make money. This method of making money is better known as subletting.
C. Start Laptop Accessory Business
You can also start a laptop accessory business alongside in that same shop. All you need is to set some capital aside to buy the accessories to start selling.
D. Start Cell Phones Business
You can also sell phones (not necessarily the expensive ones) with your phone repair business. You just need to find out the kind of phone (brands) people like in that area and start selling these same phones.
Conclusion
There is no one-size-fits-all in starting a business particularly a computer repair business or laptop repair business in Nigeria. You just have to do your findings (market survey) and know what is missing or what you can add to the phone market. The ability to believe and have some hope in the business all lies in you.
Recommended: