How to Start Grinding Business in Nigeria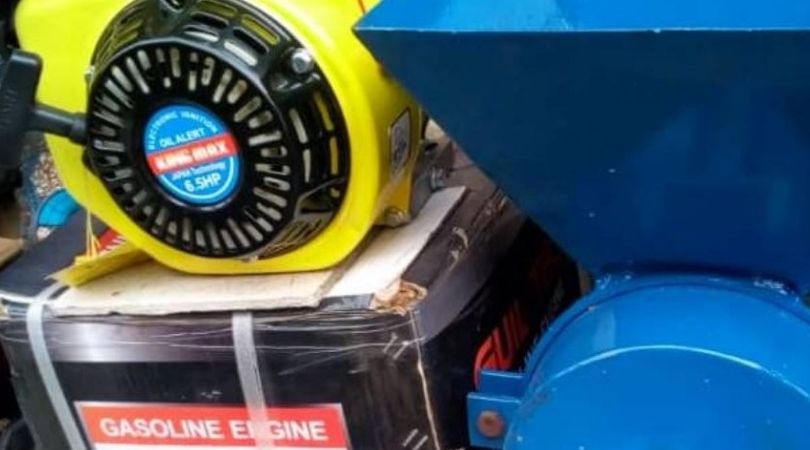 How to start pepper grinding (fresh or dry pepper) and grain grinding business in Nigeria and make profits? Are you looking for a service rendering business in Nigeria or a home business idea in Nigeria that can make daily income for you year in, and year out with little capital? This article is for you. In today's article, I will be teaching you how you can start a grinding business from your home (backyard) or market and make profits from it.
There are many ways you can make money from grinding business in Nigeria. You can make money by grinding pepper, grinding corn, grinding elubo, grinding egusi, grinding ogbono. And grinding other spices like ginger, black pepper, and more for people. Is grinding business lucrative? Yes, grinding business is lucrative in Nigeria because Nigerians cannot do without blending or grinding many of their foodstuffs before they can eat it or use it for other purposes hence making the grinding business a lucrative business in Nigeria.
The best thing about grinding business is the fact that you do not need to rent a shop to start the business in Nigeria. As long as you can provide quality service to people by grinding their foodstuff well they will always come back to patronize you.
Is Grinding Business Profitable?
Yes, grinding business is profitable in Nigeria because the business lucrative year in and year out. About 90% of Nigerian food cannot be eaten except if they are ground. A perfect example is the making of the most common soups in Nigeria like tomato stew, carrot stew, egusi soup, ogbono soup, and other kinds of soups. You can make money in this business by simply grinding this foodstuff for Nigerians and make money.
Another reason why grinding business is a profitable business in Nigeria is you can also make money grinding foodstuff for food sellers or foodstuff businesses in the area. Yes, you can make money from food sellers that sell ground black pepper, ground red pepper (ata gungun), elubo, grinded ogbono, ground egusi by grinding foodstuff for them.
Finally, it is a profitable business because you will make money grinding corn to ogi (pap) and grinding animal feeds for Nigerians. Now that we have talked a bit about how lucrative and profitable grinding business is in Nigeria let us move on to how you can start your own grinding business in Nigeria.
Equipment Needed for Grinding Business
There are other equipments you also need to out in mind too in starting your grinding business in Nigeria.
Some of these equipment are:
1. Grinding machine stand
2. Engine oil
3. Petrol
4. Grinding machine belt
5. Grinding bowls
6. Grinding stick
7. Electric bulbs or rechargeable lambs
And more.
How to Start Grinding Business in Nigeria
Steps to start grinding business in Nigeria.
1. Learn how to Grind FoodStuff
Yes, this is the first step in starting any kind of grinding business in Nigeria. You need to learn how to grind these foodstuffs (pepper, egusi, ogbono, yam, corn) first at least to customer satisfaction before you can now say you want to proceed to start on your own. But if you want to start only pepper grinding business you can learn while you are in the business.
The reason is that it is easy to grind pepper than any other kind of foodstuff. As for how and where you can learn how to grind you can learn this anywhere. You can even learn it in a market as long as the person you want to learn grinding from is fully exposed to different types of grinding and has different grinding machines.
Once you have been able to locate a place like this, you can tell the grinder that you want to learn how to grind foodstuff. The grinder will tell you the time duration you will spend learning the grinding. This often takes 2 weeks to 1 month. After you are done learning how to grind pepper, corn, ogbono, egusi, and the like the next step will be to get the capital you will need to buy your grinding machines for the grinding business.
2. Buy a Grinding Machine
The capital needed to start a grinding business in Nigeria often depends on how big you want to start – how many grinding machines you want to buy and which types of grinding machines. Do you want your grinding shop to be a one-stop for anybody that wants to grind any kind of foodstuff or do you want to focus on just one type of grinding? Maybe pepper (spice) grinding alone or grain grinding alone?
You need to decide on this first. You also need to decide if you need to rent a proper shop for the grinding business or if you will just manage space for the business. All these will inform you of how much capital you will need to start your grinding business in Nigeria. However, you can start a small-scale grinding business in Nigeria with a capital of #100,000.
These expenses will go into the purchasing of one grinding machine and other equipment needed for the grinding business like bowls, engine oil, fuel, grinding stick, and so on.
3. Buying Grinding Machine and Equipment
When it is time to buy your grinding machine there are many things you need to consider. One of those things to consider is whether you will be buying a fairly used grinding machine or a new grinding one. This grinding machine can be a diesel engine machine or a petrol engine machine.
Although the decision to buy new grinding machines or fairly used ones depends on how much you have as capital you still need to look at the life span in terms of how long they will last in the business. After buying your grinding machine whether new or fairly used test and be sure it is in good condition before taking it home.
If you bought more than 1 grinding machine maybe one for pepper grinding and the other for grain grinding make sure you test the 2 before you take them home.
Tomatoes Grinding Machine Price in Nigeria
The price of a new tomato grinding machine in Nigeria actually ranges from the quality (the make) it ranges from 45k – 75k. The fairly-used grinding machine can also range around this or a bit lower (35k – 60k)
Grain (Corn) Grinding Machine Price in Nigeria
Although people often use the same machine used in grinding pepper to grind grains there are grinding machines used to grain alone. These machines are called grain grinding machines and their prices usually range from #120k – #170k. The grain grinding machine is not as common as the pepper grinding machine in Nigeria for different reasons.
Industrial Food Grinding Machine Price in Nigeria
The industrial food grinding machine is the biggest and most expensive type of grinding machine in Nigeria. The industrial food grinding machine can range from #200k – #700k depending on the product and its quality. It is used to produce food in large quantities by industries either animal feed or human food.
4. Get a Location for Grinding Business
Location is very important in grinding business do not let anyone deceive you that it is not. Location will determine the number of customers that will patronize you and how much they will be willing to pay for your services. As for as I am concerned, there are 2 best locations you can start a grinding business in Nigeria. The number one location that often makes the business lucrative is the market.
Because the marketplace is always crowded and people who come they come there for a specific need you will always get customers that want to grind their pepper or grains. All you need is to make sure you are located next to a person that is into the fresh pepper business so that when people are done buying pepper they will come to you to grind their pepper.
And if you are into grain grinding you can make sure you are next to people who are into the grain business so that when people are done buying their grains they can come to you easily to grind. The second location that is lucrative is your neighborhood and this is if your neighborhood is crowded. If your neighborhood is crowded you can simply choose a good spot where people can locate you easily and start your grinding business. If your house is also a perfect location you can start your grinding business in your house in Nigeria.
5. Start your Grinding Business
After getting the perfect location to start your grinding business in Nigeria the next step is to install your grinding machines and start grinding. Please take note that the customers may not show up instantly immediately after you set up remember you are just starting in the business. People need time to get acquainted with you and your business. But you can be rest assured that a little convincing will bring them over as time passes.
You can also tell your friends selling pepper and grain to point people to your place and reduce your grinding prices as compared to the general grinding price to attract more customers to your grinding business.
6. Profits in the Business
The profits in grinding business can be enormous especially if your grinding business is located in a crowded area. You can make as much as #2,000 – #10,000 daily and make #1,000 – #8,000 daily as profits in your grinding business as long as the lowest price for your grinding pepper is #200 and the lowest price for grinding maize is #500.
Monthly, you can make a minimum of #36,000 and a maximum of #60,000 depending on the number of customers that come to grind and the type of grinding business you are into.
7. Necessary Provisions in the Business
There are necessary provisions you need to make in grinding business so as to make keep the business running. You need to make provisions for fuel and engine oil that will be used to run the grinding machine every day. You also need to make provisions for the servicing of your grinding machines. It is normal for mechanical machines to not perform up to expectations after some time of use and sometimes may even get spoilt. You need to set some money aside for this.
Conclusion
Pepper grinding business and grain grinding business can be lucrative if you are positioned in the right area for the business and you can make more money alongside the business by starting a fresh pepper business too.
Recommended: