How to Pass Nigerian University Exams with Distinction: 7 Tips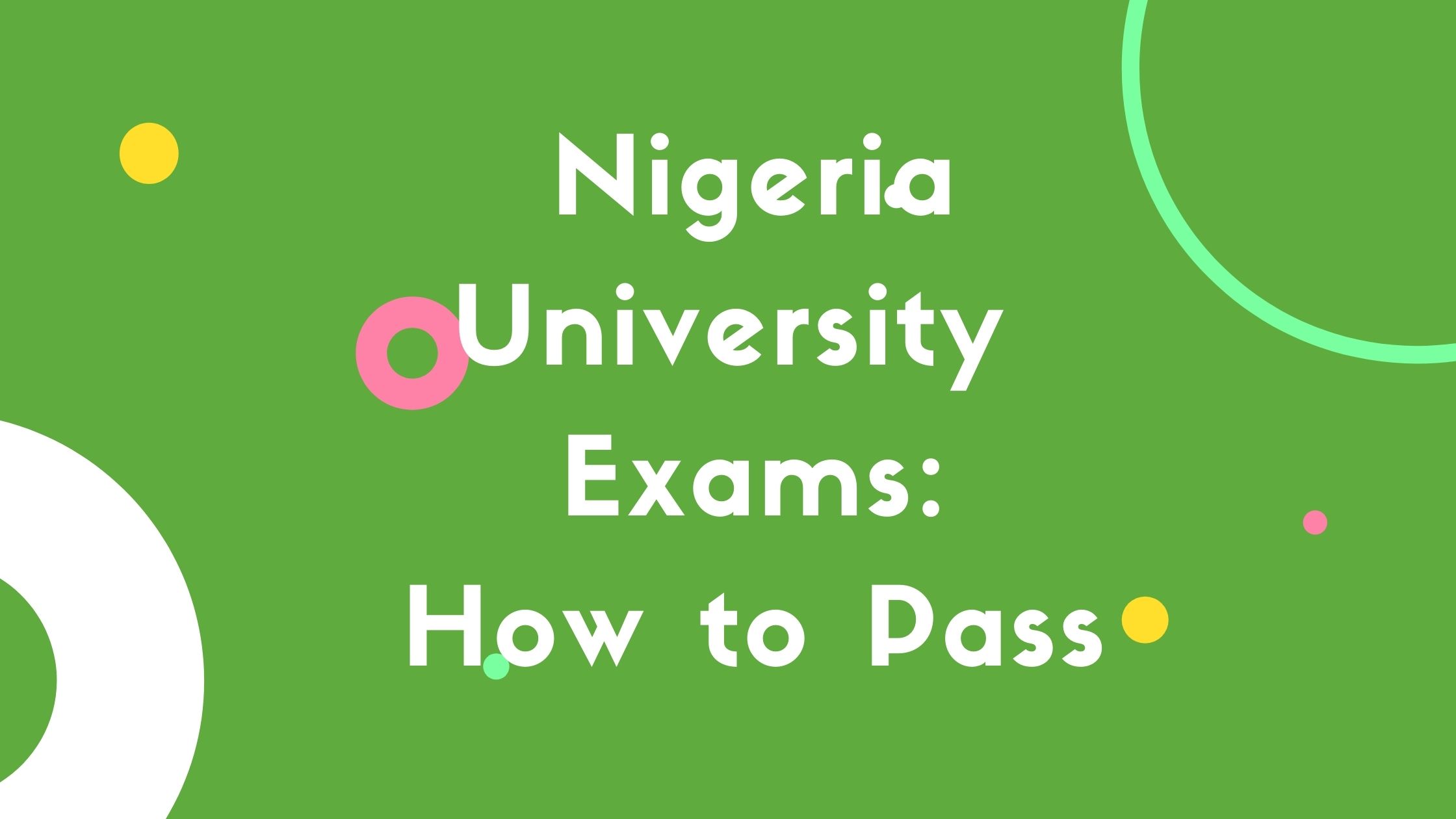 One of the hardest things for a Nigerian man is not only to pass jamb but to go through the 4 walls of a Nigerian University and finish with distinction. Now note, I'm not saying finishing with distinction in other Universities outside Nigeria is easy. Nope! We all know this! All I'm just saying is it is tougher here and I am sure you know this that is why you are reading this article now.
Well, if this is, I'll say passing any Nigerian university exam and finishing with distinction is easy with these 7 simple tips I'll be sharing with you today. We all know it's not about how much you read but the principles governing the university system. Have you also wondered why Nigerian students flourish in other universities outside Nigeria? I have given this a thought and asking questions about it also.
Well, for those of us that can guess these factors that's good but for those of us that are still thinking about this, it is because the educational system is tougher here than outside Nigeria. In other words, it is like a lion hunting well in a savanna because it was able to survive in a desert.
But for further explanation let me highlight 3 points for you.
A. Many teachers or lecturers here in Nigeria are not really passionate about teaching. Most of them are just in the educational sector because they can't get any other job somewhere else and due to this, they don't really teach well. There's no drive but students still find ways to A's in their courses.
B. Many lecturers are teaching from a failed educational system. Imagine someone who failed due to the bad education system in Nigeria being employed as a lecturer again in a university just because he knows the vice-chancellor or someone hired. I remember then during the '60s and 70's when it was like this we employed foreigners to teach our children but it's not like that now.
C. Under-informed books or too hard-to-understand study materials for university students. I faced this then when I was also in school. A university lecturer writes course materials or books like it's for a Ph.D. student. I had to read more materials from other schools and read articles from the internet to grasp my courses more.
But it is not like this in international universities (if it is where you are studying now, please comment below). There are other points but let us not waste our time. I just do not want to talk about them in order not to waste our time.
How to Pass Your University Examinations in Nigeria
Here are steps on how to get a first class in a Nigerian university.
1. Study your University System
This was one of the mistakes I made back then during my university days. Then I thought it was the same way I passed my exams in secondary school and that is the same way I'll pass my exams at the university. I never knew this was a whole different ball game. Then I thought it was all about reading my books and attending lectures nothing more, nothing less.
I did not know that I needed more; until I failed my first C.A test as a 100-level student I woke. So the first step really to passing university exams is to get rid of the mentality you brought from your secondary school and study the Nigerian University System. And by university system here (just in case you do not understand this) I mean how scores are assigned.
What lecturers want. What really boosts scores? For the best explanation of this, I will advise you to speak with a 400-level student who has seen it all and is about to graduate. Bonus on This: Attendance or Performance? Do you need to wake in at night to read or do you just need a reading group? Just make sure you study the university system.
2. Follow the Exam Rules and Regulations
As far as the university examination is concerned, there are rules and regulations governing it. And students are still ignorant of this which is why some of them get to repeat a whole semester again for a simple offense or worse expelled. I witnessed this thrice when I was writing my exams at the university. A fellow student does something simple like write on his question paper then he's caught and immediately rusticated.
In fact, there's a particular scene I witnessed during my 300-level exams where a student said what he did was not enough for him to be rusticated and the invigilators told him to read the rules and regulations of the exam on his answer booklet and he became speechless because he later saw his offense written on his answer sheet and its punishment.
So please, it is important to read the university's rules and regulations for its exam so have to know how you can act and behave in the exam hall. And by the way, even though there are few similarities, Nigerian universities' exams code of conduct varies from one university to another.
3. Study and Understand your Past Questions
The next step to this is to understand your university's past questions. But unfortunately, most students when thinking low about this aspect because I remembered back then in school my friends used to make jest of me when they see me going through past questions. They obviously thought I was looking for a way out like looking for expo but this is not true.
They were ignorant then were ignorant till Will wrote our last paper. I went through past questions then because I wanted to see how the framework for the exam was been set. In other words, to have a view of the examiner's mind. How my school sets the exam for the course I am about to write. For example: do they make question #1 in the exam a calculation question and compulsory or they could give you any question for #1 be it an estimation or explanation?
Discovering this is not only about quickly glancing through a script but going through 2 – 3 different passed questions and looking out for other questions that have been consistent for the last 3 years.
4. Do not Focus on the Area of Concentration
Yes, gone are the days' AREA OF CONCENTRATION is beneficial to students. I remember during my OND days this was the technique I was using but I realized before I was done with the program it was no longer useful.
Area of concentration also known as AOC has been the lazy way of passing university exams and the university authorities have realized this which is why they have to change the rules of the game (the way they set their exams). Get ready…
This semester they might take questions from the introductory part of your course material and next semester they might try to take questions from the concluding part of your course material. It will always change.
5. Apply your Reading and Assimilation Technique
The problem of many students in many universities is they want to be like the "A" students so they ignore their reading technique not knowing that their reading technique is not the problem. Most times, it is about their not putting enough time into studies like the "A" students or any other cogent reason. I have experienced this before so I know why I'm stressing this so well.
You see, just like I said earlier, it is not always about how good or bad your reading technique is but about what you're not doing. So do not change your reading technique especially since it has always worked for you.
6. Read your Core Course More
It took me a while to realize this back then in school. All I used to do then was to read my favorite courses more which are mostly elective and leave out the courses for my department till when I really feel like it. It was until I discovered I almost failed a core course I repented. So this is my advice to you too "Read your core courses more". I know these courses can be tiresome to read but you need to develop this habit.
Remember it's your core courses that boost your GP more. Imagine you have an "A" in a 4 unit course. Imagine this effect on your already accumulated GP. Trust me, this goes a long way to making sure you graduate with distinction from your university.
7. Believe in your Performance
It is not only about doing all the hard work; it is also about believing you will finish with distinction because if you do not believe you can, you really cannot. So believe in yourself even if you do not have any other reason to. Do not forget winning starts from the mind, not with action. Remember what I usually say on our blog "Renew your Mind".
This is because I believe not is possible without the mind seeing it through. So do this and believe me you will finish well and finish with distinction. Thank you!
Conclusion
Passing your exams with flying colours is not difficult as long as you follow the laid-down rule I have given above. These steps have been tested and proven times without a number. Focus on your studies when you get to the university. Do not allow church fellowship, study groups, or any other type of engagement to distract you.
Recommended: