How to Make Money Selling Courses Online: Easy Guide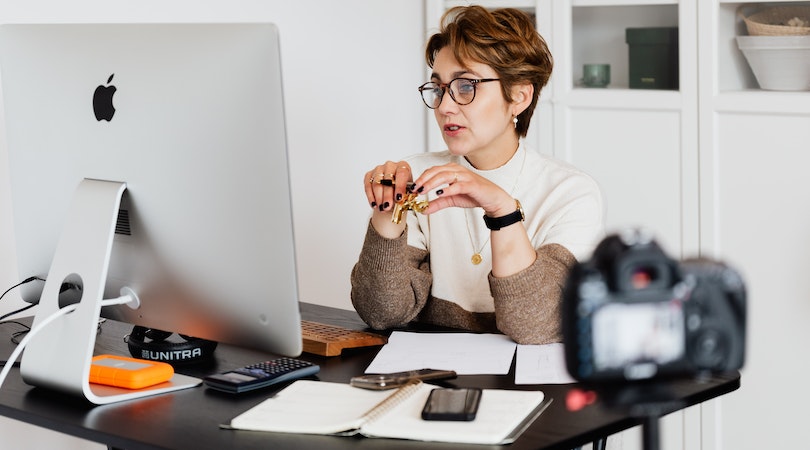 Are you passionate about a subject and have expertise in it that others would love to learn? Imagine being able to share your knowledge and skills with people from all over the world and get paid for it. Well, with the advancement of technology and the growth of e-learning platforms, making money by selling courses online has never been easier.
Whether you're an aspiring entrepreneur, a seasoned professional, or simply someone with a desire to teach, this article will guide you through the process of how to make money selling courses online in the year 2023. So, buckle up, get ready to turn your passion into profit, and let's dive into the exciting world of online course creation!
Is Selling Online Courses Profitable?
If you've ever wondered whether selling online courses can be a lucrative endeavor, the answer is a resounding yes! In today's digital age, there's a growing demand for knowledge and expertise, making online courses a hot commodity.
Whether you're passionate about cooking, coding, fitness, or any niche in between, there's an audience eager to learn from you. Selling online courses allows you to turn your expertise into a profitable venture while helping others acquire valuable skills.
How to Make Money Selling Courses Online
Below is the step-by-step process of how to make money selling courses online in the year 2023:
1. Choose Your Course Topic
Selecting the right course topic is the foundation of your online course business. Start by identifying your areas of expertise or passion. What do you have in-depth knowledge about or a genuine interest in? Research the market to determine if there's demand for courses in your chosen niche.
Look for gaps or underserved areas that you can address with your course. Consider the target audience for your course. Who are your potential students? What problems or challenges can your course help them solve? Ensure that your chosen topic aligns with the needs and interests of your audience.
Once you've settled on a topic, validate your idea by talking to potential students or conducting surveys to gauge their interest and gather valuable insights.
2. Plan Your Course Outline
After choosing your course topic, it's time to plan your course outline. Start by defining clear learning objectives. What should students be able to achieve or know after completing your course? Break down the content into modules or sections, organizing it in a logical sequence.
Each module should cover a specific topic or concept related to your course. Within each module, outline the individual lessons or units. Be sure to include a mix of text, video, quizzes, and other multimedia elements to keep your course engaging.
Create a timeline for course development, setting realistic deadlines for each module and lesson. This will help you stay on track and ensure your course is completed in a timely manner.
3. Create Your Course Content
With your course outline in hand, it's time to start creating your course content. Begin by writing or recording your course materials. Use a clear and organized structure, and break down complex topics into digestible chunks.
Create engaging and visually appealing presentations or videos, and ensure that your content is easy to understand for your target audience. As you develop your course, remember to incorporate interactive elements like quizzes, assignments, and discussions to promote active learning.
Test your course materials with a small group of beta testers to gather feedback and make necessary improvements. Once you're satisfied with the quality and comprehensiveness of your content, it's time to upload it to your chosen online course platform, making it accessible to your audience.
4. Decide Where to Host Your Course
When it comes to hosting your online course, you have several options, each with its own pros and cons. One popular choice is using dedicated online course platforms like Udemy, Teachable, or Coursera. These platforms provide built-in tools for creating and selling your courses, making it relatively easy to get started.
They also offer a built-in audience, which can help you reach more potential students. Another option is to host your course on your own website. This gives you more control over the content and branding but requires you to handle technical aspects like website setup and payment processing.
Consider your goals, budget, and technical skills when deciding where to host your course. Whichever platform you choose, ensure it aligns with your long-term strategy for your online course business.
5. Set a Competitive Price
Pricing your online course is a critical decision. Start by researching similar courses in your niche to understand the market standard. It's essential to strike a balance between offering value to your students and making a profit.
If you're just starting, consider offering your course at a lower introductory price to attract initial students and gather feedback. Additionally, consider different pricing models, such as one-time payments, subscription-based access, or tiered pricing with different features.
Experiment with pricing over time to find what works best for your target audience. Don't forget to factor in any expenses, like hosting fees and marketing costs, when setting your price to ensure you achieve your financial goals.
6. Market Your Online Course
Marketing is key to the success of your online course. Start by defining your target audience and creating a marketing plan. Utilize social media, email marketing, and content marketing to promote your course. Engage with your audience by sharing valuable content related to your course topic, and use platforms like YouTube, blogs, or webinars to establish yourself as an expert in your field.
Consider offering free previews or sample lessons to give potential students a taste of your course's content. Collect testimonials from satisfied students to build credibility. Collaborate with influencers or industry partners to reach a wider audience. Remember that successful marketing takes time, so be patient and persistent in your efforts.
7. Offer Promotions and Discounts
Promotions and discounts can be powerful tools to attract new students and retain existing ones. Consider running limited-time promotions, especially during holidays or special occasions, where you offer your course at a discounted price. You can also create bundles or package deals by combining multiple courses together, providing added value to your students.
To create a sense of urgency, use clear and compelling calls-to-action in your marketing materials. Highlight the benefits of your course and explain how the discount or promotion makes it an excellent deal. Additionally, consider offering discounts to early adopters or loyal customers as a way to reward their commitment and encourage word-of-mouth referrals.
8. Engage with Your Audience/Students
Engaging with your audience and students is crucial for building a strong community and ensuring the success of your online course. Respond promptly to questions and comments on your course platform or social media channels. Consider hosting live Q&A sessions or webinars to interact directly with your students and address their concerns.
Encourage peer-to-peer interaction among your students, such as discussion forums or social media groups, where they can share their experiences and insights related to your course. Regularly update your course content to keep it fresh and relevant, and inform your students about these updates. By fostering a sense of community and providing ongoing support, you'll increase student satisfaction and retention.
9. Gather Feedback and Iterate
Feedback from your students is invaluable for improving your course and meeting their needs. After students complete your course, send them surveys or questionnaires to gather feedback on their learning experience. Analyze the feedback to identify areas for improvement, such as clarifying complex topics, adding more resources, or enhancing the user interface.
Use this feedback to iterate and update your course regularly. By continuously refining your content based on student input, you'll create a course that remains competitive and valuable in your niche. Do not forget to communicate these improvements to existing and potential students, showcasing your commitment to delivering a top-notch learning experience.
10. Explore Additional Revenue Streams
To maximize your earnings from online courses, consider diversifying your revenue streams. You can offer advanced or premium versions of your courses with additional content or personalized coaching for a higher price. Alternatively, explore affiliate marketing by promoting complementary products or tools within your course materials and earning commissions for sales generated.
Another option is to create and sell supplementary materials, such as e-books, workbooks, or templates related to your course content. Additionally, you can leverage your expertise to offer consulting, coaching, or speaking engagements within your niche. These additional revenue streams can help you boost your income and establish yourself as an authority in your field.
Resources That Can Help You Create and Sell Online Courses
These resources can simplify the process of creating and selling online courses, making it accessible to beginners in the e-learning space:
1. Course Creation Platforms: Consider using user-friendly platforms like Teachable, Udemy, or Thinkific, which provide templates and tools to build your course content easily, even if you're not tech-savvy.
2. Content Creation Tools: Invest in quality microphones, cameras, and video editing software for creating engaging video lessons. Tools like Camtasia, OBS Studio, or even your smartphone can be great starting points.
3. Graphic Design: Canva and Adobe Spark are excellent for designing eye-catching course materials, from presentation slides to promotional graphics.
4. Email Marketing Services: Platforms like Mailchimp or ConvertKit can help you build a mailing list to connect with potential students and promote your courses.
5. Social Media and SEO Tools: Use Hootsuite or Buffer for scheduling social media posts and tools like SEMrush for optimizing your course website's search engine visibility.
6. Payment Processors: Set up PayPal, Stripe, or other secure payment processors to handle course transactions smoothly.
7. Learning Management Systems (LMS): If you're looking for more control, WordPress with plugins like LearnDash or LifterLMS can be a customizable solution to host your courses.
Frequently Asked Questions (FAQs)
a) What is the best platform for selling courses online?
The best platform often depends on your needs, but popular options include Teachable, Udemy, and Thinkific. These platforms are user-friendly and offer tools to help you get started.
b) What are the pros and cons of selling courses online?
Pros: Online courses can generate passive income, reach a global audience, and provide flexibility. Cons: Competition can be high, and it takes time to create quality content.
c) What is the best way to sell online courses?
The best way is to start by identifying your target audience, creating valuable and engaging content, and marketing your courses through social media, email lists, and SEO optimization. Engaging with your audience and seeking feedback is also key to success.
Conclusion
In conclusion, making money by selling courses online is an exciting venture that anyone can embark on. Remember, success doesn't happen overnight, so be patient and persistent. Focus on providing value to your audience, continuously improving your courses, and promoting them effectively.
Building a loyal community of learners and adapting to their needs will be key to your long-term success. So, don't be discouraged by initial challenges, keep learning, and keep sharing your knowledge. With dedication and the right approach, you can turn your passion into a profitable online course business. Good luck!
Recommended: