How to Make Money Selling on Jumia: Beginner Guide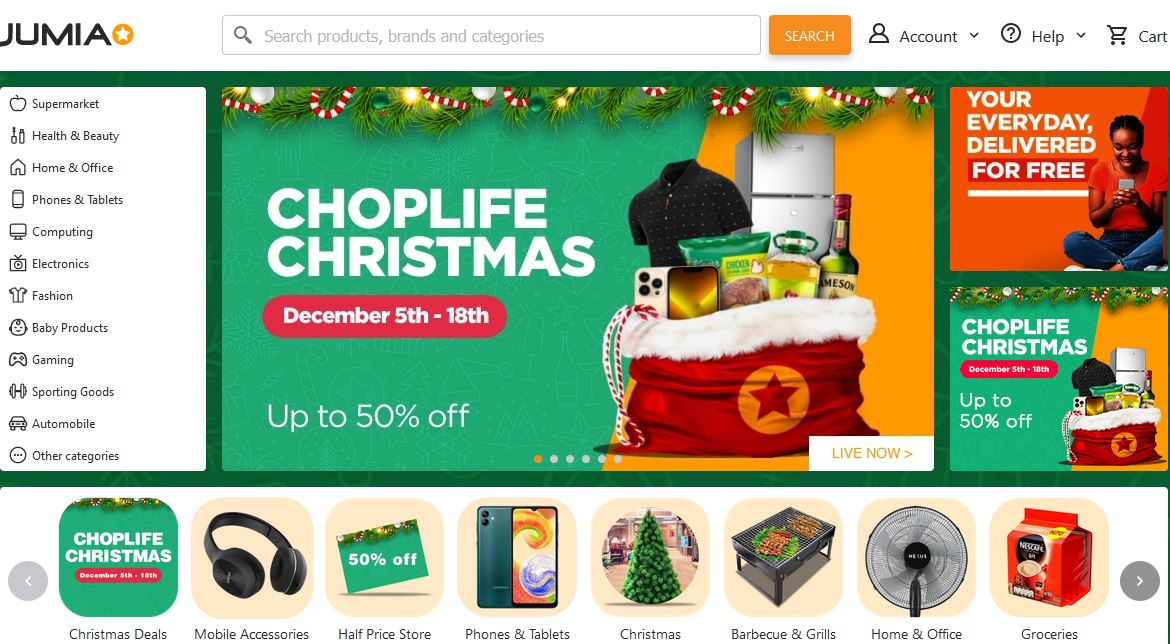 In today's article, you are going to learn how to make money on Jumia. Except you are new to e-commerce in Africa you will have bought an item on Jumia. If you have not bought an item on a popular e-commerce platform before you will have heard or seen their ads online.
If you have been thinking of making money on Jumia by selling any product, read this article to the end. We will explain in detail what Jumia is, and how to sign up on the platform as a seller or an affiliate marketer – if you want to make money without selling anything.
And finally how you can sell products on the platform successfully. The Jumia platform boasts over 100,000 products in different categories ranging from phones and accessories, electronics, beauty, books, and more.
They claim that they have 30,000,000 page views each month and on average have 225,000 potential customers monthly. This is why this platform is the best for making money online.
What is Jumia?
Jumia is a Pan-African Technology company that is built around a marketplace, logistics, and payment service. While the logistics allow the delivery of packages through a network of local partners the payment service facilitates the payments of online transactions within Jumia's ecosystem.
The parent organization of Jumia is Rocket Internet. And its CEOs are Sacha Poignonnec and Jeremy Hodara. Jumia was founded in Lagos in the year 2012.
Is Selling on Jumia Profitable?
You can make a lot of money selling on Jumia because they help you to promote and sell your products. Jumia gives you the platform to sell online or try drop shipping even as a beginner when it comes to selling online.
They are also with you all through the journey by sharing advice and tips on how to attract customers to your product and how to increase sales. Their fees are not also high unlike that of Konga. These are the main reasons why selling on Jumia is profitable.
Cost of Selling on Jumia
Registration is free if you want to be a seller on Jumia. However, after registration and you start selling your products, there is a fee for each sale you make on the Jumia e-commerce platform. The fee is determined by the conveyance method chosen and the type of product. The charges of Jumia are mostly in three categories: shipping cost contribution, commissions, and Jumia express fees.
How to Describe Items on Jumia
How you describe your items on Jumia determines how fast you will sell. On Jumia, there are sellers that make plenty of sales and there are the ones that have few sales weekly. Those that make fast sales use this technique I am about to share with you now. 
To stand out on Jumia, you need to describe the items you are selling in a list pattern (key technical specifications) stating the unique qualities, functions, features, size, and weight. After this, you need to pitch what you are selling with the right image size (680×850 pixels).
If you cannot get this use a minimum resolution of 500×500 pixels. Humans are stimulated by images. Make sure the image you are using is the right image.
How to List Products on Jumia
To list your product on a Seller Center account, You need to list one item at a time, sell your feature, perform massive creation with bulk templates, or simply ask Jumia content teams to help you list your products. You need to comply with their product creation guidelines for easy acceptance into their market. Their tips are also vital. it will help you to succeed in your product creation.
How to Receive Payments for Your Products
When customers start ordering your products, Jumia will deposit money into your bank account for each payment. They will also alert you about these payments.
How to Sell on Jumia to Make Money
Here are the steps to sell successfully on Jumia.
1. Register as a Seller
To register as a seller on Jumia, you need to visit the Jumia marketplace to fill out the form.
2. Provide your Information
At this stage, you need to provide the information asked of you. These are your email address, information about your business if you have any like your business name, bank details, account number, bank verification number (BVN), and more. All your information must be correct or else your Jumia account will be rendered invalid.
3. Confirm your Email
An email will be sent to your email address. You need to copy the access codes to be able to access your Jumia Seller Center.
4. Activate your Jumia Account
Visit the Seller Center page and use the access code sent to your email to log in.
5. Get Trained to Sell on Jumia
At this stage, you need to get trained. This training is for new sellers in Jumia.
6. Upload your Products
The moment you are done with your training you can open your seller center account to start uploading your product and start selling. For starters, you can upload five products.
What to Know About Jumia Seller Center
The seller center provides you access to the vital information you need to manage your sales, add products, update your product information, and have an overview of transactions made from the beginning when the seller center was created. The list of things you can perform on the Jumia seller center are:
To be able to check your inventory at any time, track all orders of your products, initiate promotional campaigns, monitor your selling performance by using your buyer's metrics tool, and more.
How to Make Money on Jumia without Selling
There is another way you can make money on Jumia aside from selling a product. You can make money on the platform by joining their affiliate program. Becoming an affiliate partner on Jumia is free as long as you have the right medium to promote the affiliate link.
To start up, all you need is to click on 'become an affiliate partner' and sign up. After signing up you will be required to choose the kind of product you want to promote then a unique link will be provided to you. It is this link you will promote on social media platforms like Facebook, Twitter, Instagram, Youtube, or if you have a blog.
Once intending buyers click this link to buy a product you will earn a commission. This is how you get paid without selling on Jumia. You should read our guide on how to start affiliate marketing in Nigeria for more guidance on this and to read how to start affiliate marketing on Jumia to dive in deep.
Conclusion
Selling on Jumia is very profitable for many reasons. The fact that it gives you the ability to sell online without creating a Shopify store saves you a lot of time. And the fact that as a seller Jumia supports you all the way is another good reason. Jumia trains all their sellers. They give them tips on how they can increase sales.
This makes sellers not feel alone in the sales journey. I hope this article is rich enough to make you start selling on Jumia.
Recommended: