The 10 Richest Footballers in Nigeria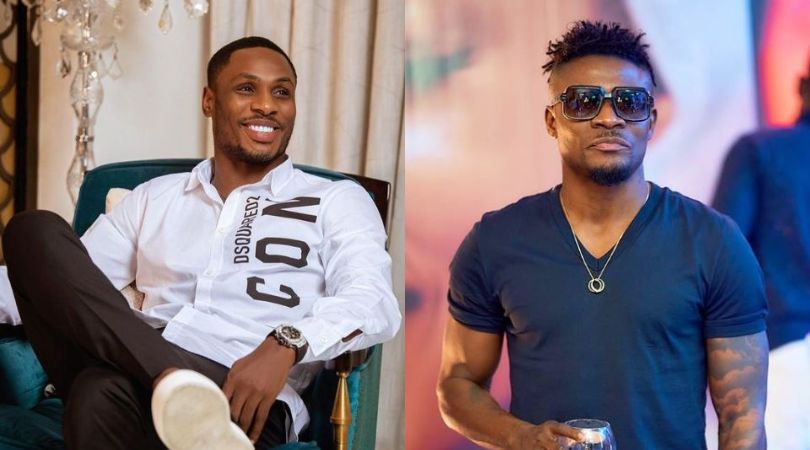 In our carrier category, we have explained step by step how you can become a footballer in Nigeria. We also went further by informing you of the top football acedemy in the country just in case you are looking for the best clubs to go to. In today's, article we want to inform you about the richest footballers in Nigeria.
This article will give you a sneak peek at how much you can earn as a professional footballer and how wealthy many Nigerian footballers are. It is important for you to know that many of these wealthy players did not just get rich immediately.
They had to pass through the rigors of training and careful positioning to get to the peak of their carrier which in turn made them rich.
Top 10 Richest Footballers in Nigeria
Here's the list of the richest football players in the country Nigeria and their net worth.
| | | |
| --- | --- | --- |
| No. | Player | Net Worth |
| 1. | Mikel Obi | $61,000,000 |
| 2. | Odion Ighalo | $44,000,000 |
| 3. | Obafemi Martins | $42,000,000 |
| 4. | Victor Moses | $26,000,000 |
| 5. | Ahmed Musa | $19,000,000 |
| 6. | Emmanuel Emenike | $16,000,000 |
| 7. | Victor Anichebe | $16,000,000 |
| 8. | Yakubu Aiyegbeni | $15,000,000 |
| 9. | Anthony Ujah | $11,000,000 |
| 10. | Vincent Enyeama | $8,000,000 |
List of Richest Footballers in Nigeria
1. Mikel Obi – $61,000,000
Mikel Obi is the first on our list as one of the richest footballers in Nigeria today. This professional player has played for the national team many times and has been the captain multiple times. Mikel Obi has acquired lots of silver medals during his course of playing locally and internationally.
In 2013, he had a silver medal at the African Cup of Nations and a year before that 2012, he had a silver medal at the 2012 Olympics. If you do not know much about his biography, here is his profile update. Mikel's full name is John Obi Mikel and he was born on the 22nd of April 1987.
He is popularly known for his role on the playing field as a midfielder. Mikel's transfer worth is currently free. His most recognized award is the CAF Most Promising Talent of the Year, 2005. So far, Mikel Obi has won many trophies to his name by working hand in hand with his team.
Mikel Obi is well known for playing for the Chelsea club winning two English Premier League titles, one UEFA Champions League title, three FA Cup titles, one Europa League title, one Turkish Cup, and more. As of today, Mikel Obi's estimated net worth is $61,000,000. This estimate is based on mansions, luxury cars, salaries, and more.
2. Odion Ighalo – $44,000,000
Odion Ighalo another rich footballer in Nigeria. He is on our list because his net worth is currently estimated at $44,000,000. Born on June 16th, 1989, playing forward, with a transfer worth €15,000,000, Ighalo plays for Manchester United.
Manchester United is one of the wealthiest clubs this perhaps is one of the reasons why many attribute Ighalo's wealth to the club. Ighalo started his football journey at Julius Berger in Lagos state. He is from Edo state.
Ighalo has been successful so far in his football carrier because he has always put his heart into everything he does. Thus, he has moved from one club to another. Ighalo once played in China too.
3. Obafemi Martins – $42,000,000
The third richest footballer in Nigeria is Lagos state indigene Obafemi Martins. Born on the 28th of October 1984, Martins is a football legend because he has been playing for 20 years professionally. Obagoal has his popularly known is more remembered for his time in Inter Milan.
This is due to his ability to run fast while playing forward for the club. His time cannot be forgotten at the club as he won the Italian Serie A, Italian Cup, and Italian Super Cup. Obafemi later left the club for Newcastle in the English premier league after he spent 5 years scoring 28 goals.
Other clubs He also played for are Wolfsburg, Rubin Kazan, Levante, Birmingham, Seattle Sounders, and more.
4. Victor Moses – $26,000,000
Those of us that know Victor Moses know that his name has to be on this list. Victor is loved by Chelsea after helping the club win the English Premier League while playing as a right-wing-back. Born on December 12th, 1990, Moses's football carrier started slowly, he played for Cristal Palace, Wigan Athletic, Stoke City, and West Ham United before playing for Chelsea.
Victor Moses's transfer worth is €15,000,000 with a role-play of forward. He is presently on a loan at Inter Milan. He joined the club in the summer of 2019 on loan from Fenerbache. He helped Inter Milan finish second to title winners Juventus at the end of the season.
His consistency and hard work have made him where he is today. Victor Moses is from Kaduna State.
5. Ahmed Musa – $19,000,000
Ahmed Musa was born on October 14th, 1992. He is popularly known for his role as a winger. With a transfer, worth is €13,000,000 based on records Ahmed Musa holds the most goals scored by a Nigerian international footballer.
He is also the first Nigerian footballer to score a hat trick in two different Worlds Cup tournaments in the year 2014 and 2018 respectively. Back in 2013, Ahmed Musa was a member African Cup of Nations winning team.
This Jos indigene reached the peak of his career by making appearances for Leicester City after his transfer to CSKA Moscow. Currently, Ahmed Musa for Al-Nassr a Saudi Arabian Club.
6. Emmanuel Emenike – $16,000,000
Emmanuel Emenike is forever remembered for the contribution he made to the national team, especially in winning the 2013 African Cup of Nations that was held in South Africa. According to reports, many believe that Emmanuel Emenike excelled in playing the national team more than his clubs.
Emmanuel was born on May 10th, 1987. He has the ability to play winger position. One of the drastic changes that Emmanuel had to do was to move from Delta Force in Delta State to Mpumalanga black aces club in South Africa.
After he spent one year at this club, he went to Karabukspor in the Turkish premier division and from there moved to Europe. Emmanuel was bought by Fenerbache in the year 2011. Emmanuel Emenike was later sold to SCKA Moscow but as of today, he is without a club but he is still very rich.
7. Victor Anichebe – $16,000,000
Victor Anichebe was born in Anambra state on April 23rd, 1988. He is another footballer who started out by playing for two clubs in Nigeria. Victor once played for Everton helping the club with outstanding performances until he received an unfortunate tackle from Kevin Nolanup.
The injuries he sustained from the tackle were so severe that he did not play for a year. At some point, Victor sued Nolanup until they finally decided to settle out of court. After 131 appearances and scoring 18 goals, Victor Anichebe was sold to West Brom.
After he moved to Sunderland before finally moving to Beijing Enterprise in China. He made all his money from playing football professionally.
8. Yakubu Aiyegbeni – $15,000,000
Popularly known as Yak due to his egregious blunder against South Korea in a crucial World Cup qualification match in 2010, Yakubu Aiyegbeni is one of the richest footballers in Nigeria. He is known for the goals he scored during his time in the Nigerian national team.
After playing for the National team Yak traveled abroad to pursue international clubs. Yak has played for Portsmouth, Middlesborough, Everton, Leicester City, Blackburn Rovers, Guangzhou Evergrande in China, and more. Yakubu Aiyegbeni was born on 22nd November 1982 and he is happily married. He is the eighth richest footballer in Nigeria.
9. Anthony Ujah – $11,000,000
With a transfer worth €2,000,000, Anthony Ujah is another wealthy footballer in Nigeria. After spending some time in Nigeria Ujah traveled abroad to play for international clubs. He joined Lillestrom for a four years contract. It was the money he earned from this club that majorly made him a multi-millionaire.
After his time at the club Ujah went on to play for Mainz the following summer. After his time there, he went on to play for Liaoning in China. Then Union Berlin (German Bundesliga). Anthony Ujah might not be popular as his mates but he is still rich.
10. Vincent Enyeama – $8,000,000
Last on our list is Vincent Enyeama. He is the most popular goalkeeper in Nigeria. He played for the national team for 13 years. He has also won so many awards including CAF Champions League Player of the Year 2003 and 2004, Isreal Footballer of the Year 2009, Prix Marc Vivienne Foe 2014, and Goal Nigeria Player of the Year.
Enyeama made most of his money from football and endorsements. He is from Akwa Ibom and he is married.
Conclusion
Football is a lucrative carrier especially if you are going to play for international clubs. If you are young and you are passionate about this skill, this article should be able to motivate you to work harder to become rich too.
Recommended: