How to Start Jewelry Business in Nigeria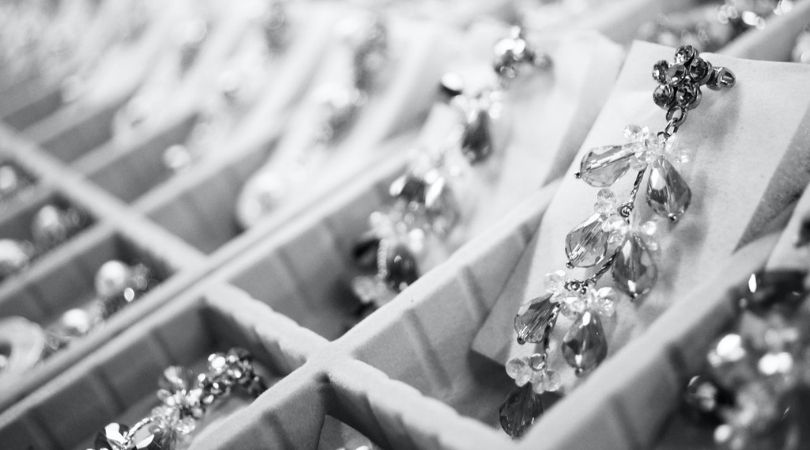 Have you been thinking of starting a lucrative jewelry business in Nigeria and you have no idea how you can go about it? You want to know the capital needed to start a jewelry or gold business, where you can be buying your jewelries at the cheapest prices, equipment needed to start a jewelry business, and more? Stick to this article to the end.
At the end of this article, you will be able to start a jewelry business from anywhere you are located in Nigeria. It is no doubt that the jewelry business or gold business is a very lucrative business because it is highly profitable. It is highly lucrative because many Nigerians (both men, women, and children) use jewelry.
While some buy it just for keeps (investment purposes – to sell at a higher price at another time) others buy it as an extension to their fashion. In Nigeria today, it is hard for you to see a Nigerian couple whether Muslim or Christian get married without the use of Jewelry, from gold necklaces and wristbands for the wife-to-be to additional pieces of jewelry for the husband-to-be. Let's not forget the exchange of rings also. Wedding or engagement rings could range from #50,000 to #5M or even more.
These rings can also be in various forms of precious minerals like gold, silver, platinum, copper, and other stones like diamonds, and more. There are also jewelries in the form of beads which are also sold to the Nigerian market. In all, the jewelry business is a big business in Nigeria if you have the capital to start and you are persuasive with words.
The capital will be used to buy all the necessary equipment needed and the jewelry you are going to be selling to people. While the ability to persuade with the words of your mouth will be needed to convince people to buy your jewelry or gold.
Is Jewelry Business Profitable?
Jewelry business is a profitable business in Nigeria for so many reasons and I think I have discussed some of these at the beginning of this article. The jewelry business is lucrative because many if not all Nigerians wear one type of jewelry or the other. Another reason why is profitable is that it is a market that deals with precious metals and stones.
Because precious metals and stones are expensive and always appreciated people will spend any money just to buy them with the hope of selling them later. Enough said, let's talk about how you can start jewelry business in Nigeria and make millions.
Capital Needed to Start Jewelry Business
How much you need to start a jewelry business in Nigeria depends really on so many factors. So many factors like how big you want to start, equipment needed, the shop you want to rent, and the locality you are in Nigeria. But however, with a capital of about #1.2M, you can start a standard jewelry business in Nigeria no matter your location.
Famous Jewelry Makers in Nigeria
The jewelry business is growing rapidly in Nigeria especially since the advent of the 'buy Naira, grow the Naija' movement. This movement has really encouraged so many local jewelry makers who once gave up in the fashion industry to give it another try. And today, there are hundreds if not thousands of jewelry makers in Nigeria.
Although there's no total trust in terms of quality, there's still a market for local jewelry makers in Nigeria. Here's a list of some common jewelry makers in Nigeria that are already doing massively well in the industry.
1. Circa 64
2. Kunbi works
3. Hadash Jewelry
4. Itoro Okon
5. Bimbeads
6. Zivanora
7. Gbenga Artsmith Collections
8. Treasures by Isura
9. Adorned by Hadash
How to Start Jewelry Business in Nigeria
How to start a lucrative jewelry business in Nigeria.
1. Understand Jewelry and Precious stones
It is very important to learn about jewelry both as a product and as a business. You need to understand the jewelry market especially if you are going into the jewelry business for a long time and this is because there are so much fake and substandard pieces of jewelry in the market today.
These pieces of jewelry can sometimes be mistaken for original and quality jewelry but when you take your time to understand the market, you will be able to differentiate these easily and be able to give appropriate prices.
How long it takes to learn the jewelry business depends on how fast you are in understanding the things you need to learn. Everything you need to know about the jewelry business is within the space of 3 – 6 months and when you are done set out to start on your own.
2. Do your Feasibility Studies
I use to tell my followers and readers that the fact that a business is lucrative in Nigeria does mean you should not do your feasibility studies or what some people call market survey before venturing into the business. And this is because sometimes a business is lucrative because of the area the business is located. For example; jewelry business is more lucrative in urban areas than in rural areas.
Urban people use more jewelry because of how exposed they are to rural folks. So you really need to do your feasibility studies before starting any business in this case, the jewelry business. The feasibility studies will open your eyes to many factors you will not see naturally. These factors will let you know if your jewelry business will be successful in the area you reside in or the area you want the business to be in.
Since customers are the determinant of any successful business, it is very important to know if your business will be patronized when you finally start.
3. Write your Business Plan
After doing your feasibility study or market survey for your jewelry business in Nigeria the next step will be to write or draw your jewelry business plan. Just as a feasibility study is very important in any business, a business plan is also important. In your jewelry business plan, there are some factors you need to write about that will determine how your jewelry business will turn out.
Factors like how much will be needed as capital to start your jewelry business, where are going to be renting a shop (the size and yearly rent), equipment needed for the jewelry business, and more. So write a jewelry business plan for your jewelry business but if you feel you need an experienced person to write this for you, you can hire us by contacting us through theinfoworth@gmail.com
4. Get Capital for Business
Capital in a jewelry business is very important because you need capital to buy the jewelries, equipment for the jewelry business, rent a shop for your jewelry business, and more. Jewelry business is capital-intensive. It requires a big capital to start even if you are starting small. As I explained earlier, you need a capital of #1.2 million naira to start a small-scale jewelry business in Nigeria.
However, if you do not have up to that but you have a substantial amount like #500,000 or #200,000 you can still start the business. It is just that you will not be able to rent a shop, buy jewelry equipment, and more, you will only be able to buy the jewelries. And you will have to be mobile with your jewelry business – taking it up and down to meet your customers. Read our guide on how to get funding for your business in Nigeria.
5. Buy Equipment for Jewelry Business
There are equipment needed to start a jewelry business in Nigeria. Some of these equipment are:
1. Show glasses
2. Bulbs
3. Padlocks
4. Fans
5. Air conditioner (optional)
6. Jewelry-creating kits
7. Jewelry testing chemicals
And more.
You can buy all these equipment or simply buy some – the ones you feel are most important at least to start out first. As for the show glasses you can buy or make the ones made out of wood or metals. You need padlocks and all other forms of security for adequate security in your jewelry shop. You do not want to be robbed or burglarized at night or daytime.
6. Rent a Secured Shop
After buying the equipment for your jewelry business the next will be to rent a shop and furnish it. When you want to rent a shop you should take note of the area you want to rent the shop and how much you will spend on renting the shop. You do not want to rent a shop that will take over 60% – 70% of your capital.
Remember, there are still other things to do and pay for before the business can stand on its own and start making profits. As regards choosing a location for your jewelry business, you need to choose a place where thousands if not millions of Nigerians pass every day. This does not necessarily have to be in a market.
It can be a shopping mall or shop facing a major road preferably a federal road. Get a shop in either of these locations at a good rent and furnish the shop.
7. Buy Jewelry Wholesale
When you are buying your pieces of jewelry especially your first set of pieces of jewelry, you need to be careful not to buy fake jewelries. You need to take your time and find good sellers that have built a good reputation and buy from them. After buying them, make sure these jewelry are kept in a good environment with a good temperature to maintain their quality.
8. Start Selling your Jewelry
At this time, do not wait for a particular time to start selling your jewelry. Start informing your family and friends, and your church members about your jewelry business. Also, connect with your rich friends. Rich people tend to buy jewelries more at good prices than other folks.
How to Make Millions from Jewelry Business
1. Sell your pieces of jewelry to Malls, Supermarkets, and other big shops in your area.
2. Sell your pieces of jewelry to Celebrities
3. Sell to politicians
4. Sell your pieces of jewelry online in Nigeria using e-commerce stores like Jiji.ng, Jumia, Konga, and more.
Small Jewelry Business Ideas in Nigeria
There are different small Jewelry business ideas to guide you on the kind of jewelry business you can go into in Nigeria. These are;
1. Gold Business
This is a small jewelry business where you only deal in the business of buying and selling gold. These golds could be in raw form or could already be made into jewelry like necklaces, bracelets, ankle chains, earrings, rings, and more.
In this kind of jewelry business, you can be buying your gold jewelry locally in Kano or Lagos, and be selling to Nigerians or you can be importing your gold jewelry from Dubai and be selling them locally. If you want to go into only the selling of raw gold you can be buying these raw golds from reliable sellers in the north and sell them to individuals.
2. Gold and Silver Business
Gold and silver business is another small jewelry business idea for passionate Nigerians that want to go into the jewelry business. In this business, you can be selling gold and silver jewelry side by side. Those that want to buy gold from you will buy gold and those that want to buy silver will buy silver from you. As for where you can buy the gold and silver it depends on what you prefer. You can either buy it locally or buy it from abroad to sell in Nigeria.
3. Precious Stone Business
Precious stones business is a unique small but capital-intensive jewelry business idea that involves the buying and selling of all types of precious stones. The most precious stones usually sold in the Nigerian jewelry market are diamonds.
However, diamonds are not sold in pure form at least not to individuals rather they are sold to licensed jewelry companies that will refine them and resell them. Precious stone business is a lucrative jewelry business that can make you a millionaire in a short while if you sell diamonds to rich individuals.
Jewelry Wholesalers in Nigeria
There are jewelry wholesalers in Nigeria but these people are not all over in Nigeria. The 2 states there are in majorly are Kano and Lagos. So you can simply travel to these states to buy in bulk and sell in your own locality.
Jewelry Market in Lagos
The jewelry market in Lagos, Nigeria is in CMS market popularly known as Balogun Market. In this market, you can buy any kind of jewelry in bulk or retail to resell to your customers or prospects. In this jewelry market in Lagos, you can buy necklaces, rings, leg chains, earrings, wristbands, wristwatches, and more.
However, when you are going to this market you need to be conscious of your money if you're going with cash, and asides from this you need to be market conscious so that jewelry sellers in Lagos will not sell fake jewelry to you.
Conclusion
Jewelry business is a capital-intensive business in Nigeria. This is because Nigerians like jewelries. However, if you do not have the big capital to start you can start small – with what you have and grow your business gradually.
Recommended: