How to Start Okra Farming in Nigeria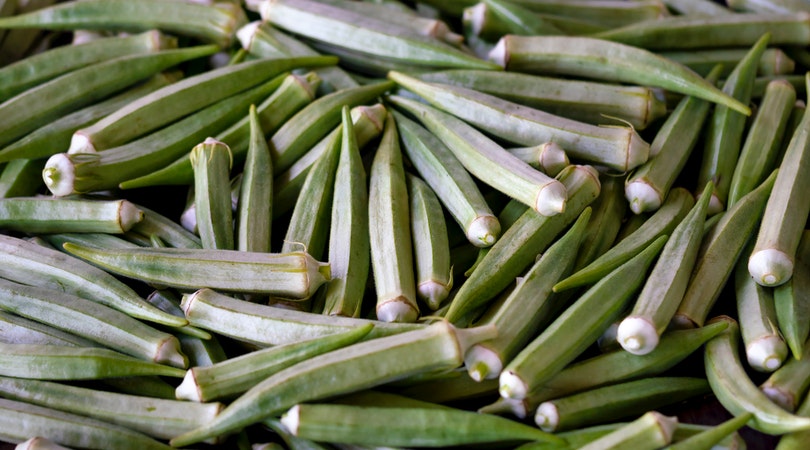 Okra also known as okro is widely cultivated in the tropics mainly for its fruit which is used as a vegetable both in the green and dried state. The stem also produces fibers that have many uses but not on a commercial scale. Okra leaves are also eaten as vegetables. In the course of this write-up, we will encapsulate all the processes involved in okra farming in Nigeria.
If you are contemplating on a start an agri-business like this, then read this piece to the last punctuation mark as we will talk about all you need to get started in okra farming. Many varieties of okra crops are cultivated but in the eastern states of Nigeria, the main varieties which are recommended are the New Lady's Finger and Perkin's Long Pod. There are also some other good local varieties of okra.
Is Okra Farming Profitable?
The preceding paragraph detailed what is really involved in okra farming and how to get started. If you are yet to be convinced about getting into the business, then let us give you a view of how profitable farming is. One of the surest chances is that if you plant just yet one seed of okra, you should be able to harvest in excess of 100 seeds, excluding selling them new, they can likewise be sold dried or their seeds brought out and sold.
On the whole, all we can say is that okra farming is rewarding and profoundly productive. Just as one thing with vegetable is that it has a lot of gains, particularly in the event that you sell them completely within the duration of their lifespan.
How to Start Okra Farming in Nigeria
Here are steps on how to start okra farming in Nigeria to make profits.
1. The Farmland Requirements
The okra crop is a tropical crop and it does well in high temperatures and high humidity. It can be grown all year round provided that there is a sufficient water supply. Okra plants require well-drained soil that is rich in nutrients. It does very well-manured soils around homes. After getting the farm site set, it is also pertinent to look at the cultivation and how to get them into the ground.
Let us look at the cultivation, harvesting, storage, and yield of okra farming in Nigeria.
2. Seed-Bed Preparation
Clear the land and make beds of 7.2 m × 1.2 m. Apply lime at the rate of 1.35 kg per bed or 520 kg to 780 kg per hectare during bed preparation. Then mulch heavily up to a depth of 10 cm.
3. Planting of Okra Seeds
Plant at the rate of 7 kg to 9 kg per hectare for sole crop or 1.4 kg per hectare for inter-crops. Plant directly into the field for there is no need for a nursery. Sow 3 to 4 okra seeds per hole and supply them at weekly intervals. Spacing should be 30 cm to 60 cm within rows and 30 cm to 60 cm between rows. The depth of planting is about 1.5 cm.
4. Fertilizer Application on Okra Farm
Fertilizer should be applied at intervals to the growing crop. Top dress with 15–15–15 N.P.K mixed fertilizer at 390 kg to 520 kg per hectare at 4 to 6 weeks after planting or 0.45 kg to 0.9 kg of fertilizer per bed of 7.2 m × 1.2 m. Sufficient manure should be added. Apply the fertilizer in a ring around the crop for at least 15 cm from the crop.
5. Weeding in Okra Farming
Weeding should be done as regularly as the need arises. The okra crop should not be allowed to compete with the weeds, which would otherwise deprive the crop of sufficient nutrients. Since okra is a tall plant, the excessive need for weeding will be when the plant is at the early stage of growth. After it has grown fully, you will only have to clear the growths with a cutlass, except you did mixed-cropping.
6. Control of Pests and other Diseases
The chief pests in okra farming are the leaf and flower-feeding insects but this can be controlled by the use of D.D.T. Dust with Vetox 5-Dust, Gammalin Dust or Aldrin Dust, or Spray with Vetox 85. The main disease of okra is mosaic caused by a virus attack.
7. Harvesting of Okra Produce
Short-season varieties are ready for harvesting in about three months after planting your okra. As a vegetable, the fruit is picked before it is fully matured but if the harvest is for seeds the fruit is allowed to mature fully and dry before it is picked. The production of okra in Nigeria is high but it is not proportional to the increasing demand for the agricultural produce.
If you are able to harvest much of these okra from your farm, then you will be able to sell them in the favorable market at good prices.
8. Storing your Okra Harvest
Under cool and dry conditions, fresh okra can be stored for about 5 to 6 days without refrigeration. The fresh green fruit is also sliced, dried, and stored under dry conditions. The dried fruit can be stored for months and when needed it is soaked and used as vegetables. This practice is done by even the most illiterate housewife.
The fully mature dried fruit is stored over the fire till needed for planting. Moreover, contingent on the variety, okra can keep going for over 3 years when dried. Notwithstanding, it is fitting you leave the seeds in their cases, and keep them in a warm place. On the chance that you need to remove them from their case or shell, then you should transfer them to an impermeable compartment that is free from cold temperatures.
Another method of saving newly harvested okra is to wash and cut them into more modest sizes. This should be tiny enough to reach the ones we typically would when we like to cook them. After the cutting is done, then dry the okra under the sun to be dry pack them into holders for use at whatever point you need them. When completed, your okra can last for up to a year and is similarly on par with the new ones.
9. Yield of Okra Produce
Let's now look at the product of your whole engagement in okra farming in Nigeria. This is surely what will give you the motivation to invest more in agribusiness. An average yield of 2,500 kg to 3,500 kg of fresh fruit okra per hectare is possible. This, however, depend on the variety that was planted. It is advisable to go for improved species which will eventually give you the best results.
Why Should You Start Okra Farming in Nigeria?
The thought of productivity is what always enters an entrepreneur's mind when intending to go about a new farming business. If you are interested in the business of cultivating okra, then you aren't written out on getting a good turnout of produce. The business is productive, and the product has high demand as such supportability is certain. 
Because of the expanded degree of usage, and the demand for it far exceeds supply, you can bridge the gap by producing quality products in the market and hope to get a lot of customers. Another reason why Okra farming is very productive here is that the plant is a sort of vegetable that has a short season, i.e they grow in a short time which means they grow faster.
By this being the case, you will hope to get your cash within a short period of planting them. After we have said much about okra farming, it might be you have made up your mind to venture into this remunerative business.
External Characteristics of Okra
The following are the physical attributes of okra. Okra is a tall erect annual plant reaching a height of 2 m or more. There are some dwarf varieties that hardly exceed 1 m to 1.5 m. The leaves are borne on long petioles that are often red or yellow. The leaves are divided into 3 or 5 pointed loves with notched or toothed margins. Okra flowers are bright yellow and typical of the family to which the plant belongs. This develops into the dark green, mucilaginous fruit, which contains the seeds.
Top Health Benefits of Okra
If you are adamant about what 'common' okra can give the body, then you might be writing the vegetable off. Just like any other vegetable, okra is very nutritious and has some important health benefits to the body.
These include the following:
1. Okra helps the body battle heart and malignant growth illnesses. If you're prone to this condition, you can add okro soup to your diet.
2. It has health supplements like nutrient C, calcium, and potassium. Okra can fill in as an important supplier of body nutrients like this.
3. Also, it has low calories which is useful for diabetic patients. Okro soup is quite good for diabetic patients who do not need food with high calories and sugar content. Inasmuch as there are many other benefits of okra to the body, these few are written so as to give you a view of their usefulness.
Just as a lot of people here add vegetables to their diet, it is preferable to eat them routinely with other food in order not to comprehend its adverse effects. Too much of eating okro soup can bring about stooling for some people, and other effects.
Conclusion
If that is the case, this article should be your starting point. We believe you have read the whole details as it included the ideal processes on how to start okra farming anywhere in the country. Everything you have learned on this topic will take you far in okra farming and will make you enough money as time goes by.
Recommended: